The Český kras (Bohemian Karst) Protected Landscape Area (PLA) was declared by the Czechoslovak Ministry of Culture on 12th April, 1972. The total area of the PLA is 12,823 ha and it lies to the south-west of Prague in the Středočesky kraj – Central Bohemian Region, with a part of the PLA lying on the territory of the City of Prague. The lowest elevation in the area is on the Berounka river near Hlásná Třebáň at 199 m above sea level and the highest point is the peak of Bacín to the north-west of the municipality of Vinařice at 499 m. Twelve municipalities lie completely within the PLA and parts of another 29 municipalities lie within the PLA territory. These areas are administered by 37 municipalities and 2 city districts.

The mission of a Protected Landscape Area is to protect all values of its landscape, its appearance and typical characteristics and natural resources and the formation of a balanced environment. Bohemian Karst is an exceptional territory for its geology and stratigraphy of Silurian and Devonian periods and research on the evolution of life on Earth in these periods. It is also the largest limestone region in Bohemia with preserved extensive areas of rocky steppe, forest steppe and deciduous forest communities with a very rich natural flora and fauna. The variety of nature in the area is strongly influenced by the river and karst phenomena. Many plant and invertebrate species which inhabit Bohemian Karst are found nowhere else in Bohemia.

To protect the exceptional natural values found here 19 small–scale specially protected areas have also been established: 2 national nature reserves (NNR) (Karlštejn and Koda), 4 national nature monuments (NNM) (Černá rokle, Klonk, Kotýz and Zlatý kůň), 8 nature reserves (NR) (Karlické údolí, Klapice, Kobyla, Kulivá hora, Radotínské údolí, Staňkovka, Tetínské skály, Voškov) and 5 nature monuments (NM) (Hvížďalka, Krásná stráň, Špičatý vrch-Barrandovy jámy, Lom u Kozolup and Zmrzlík). Within the Natura 2000 system, we can find 8 proposed Sites of Community Importance within the PLA (Karlické údolí, Karlštejn, Koda, Kotýz, Kulivá hora, Radotínské údolí, Suchomasty-zámeček, Štoly Velké Ameriky and Zlatý kůň). Since the year 2000 Karlštejn NNR has been a holder of the European Diploma for Protected Areas.

Other specifications: Medník, Požáry, Dalejský profil, U Nového mlýna, Barrandovské skály, Lochkovský profil and Cikánka I. national nature monuments (lying outside the PLA) are also administred by the PLA Administration of Bohemian Karst.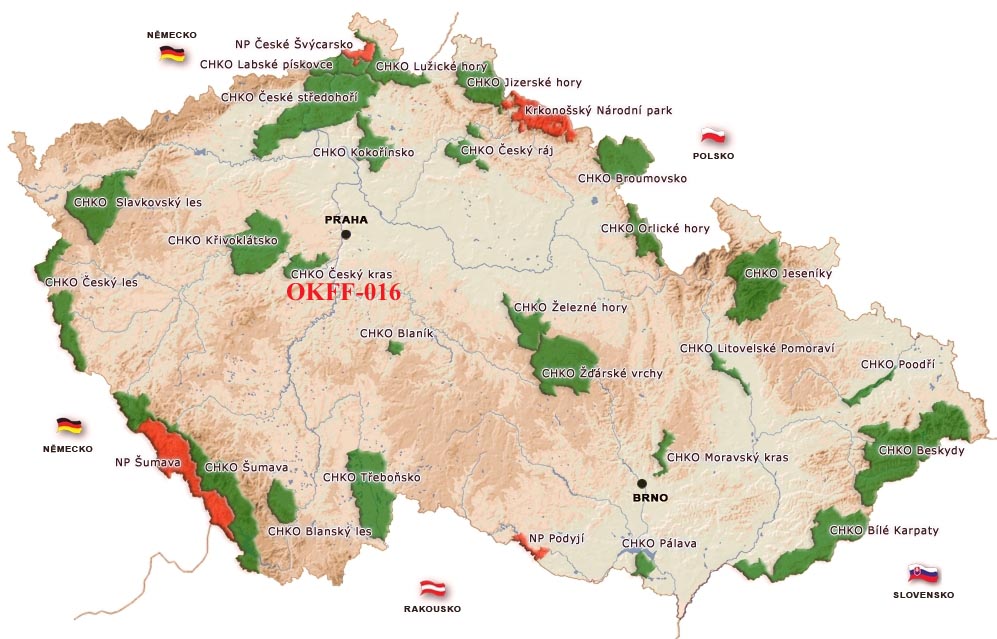 Map of NP and PLA in the Czech Republic.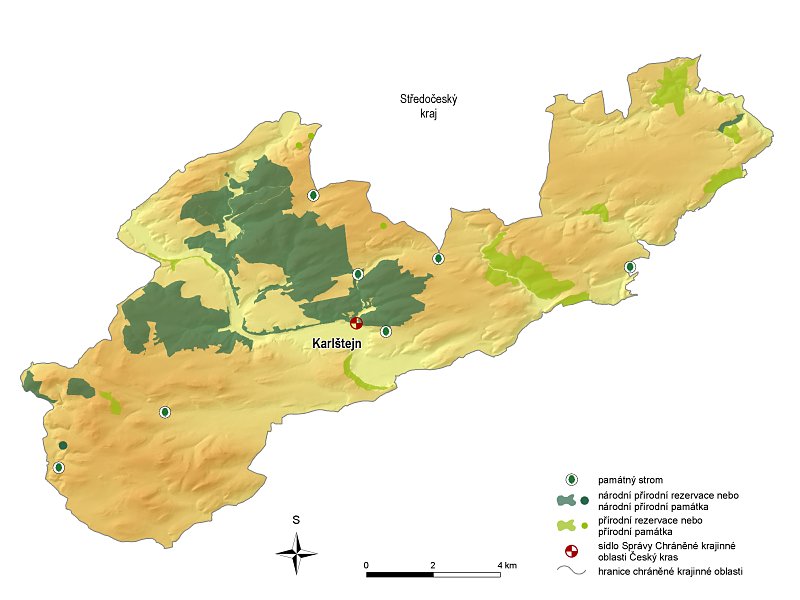 Map Protected Landscape Area Bohemian Karst.
| | | |
| --- | --- | --- |
| Karlštejn | | Big America |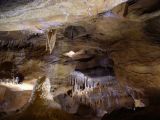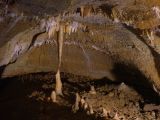 Koněprusy Caves - Organ and Eternal desire.
Source: http://www.ceskykras.nature.cz a http://www.cittadella.cz/ .
Links: Big America , Karlštejn Castle , Koněprusy Caves , Saint John under the Cliff .